Vehicles for sale in Polonnaruwa, Sri Lanka
Showing 1 - 7 of 7 ads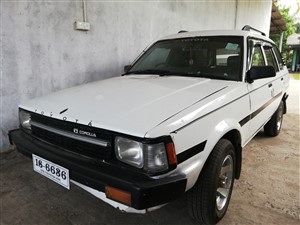 112000 km
Polonnaruwa
,
Cars
Toyota Corolla Wagon DX - 1986,No.16-6636, A.C,Aloye wheel, Rivers camera, Mp3, good seats, Revenue License up to 2020, Price Negotiable
Rs.560,000
20000 km
Polonnaruwa
,
Others
Bajaj LONGFANG - 2011,SALE FOR LONFANG HAND TRACTOR WITH TRAILER WITH ROTARY GOOD CONDITION CALL ME 0714223322
Rs.200,000
140000 km
Polonnaruwa
,
Vans
Toyota KR42 - 2007,Registered in 2013.2nd owner. Original paint and in original condition. Rotatable adjustable seats. AC, power steering,alloy wheels. Vehicle in mint condition.
Rs.3,950,000
0 km
Polonnaruwa
,
Buses
Nissan Nissan DIESEL - 1993,45 Seater adjustable. AC. power steering. Under baggage. Exhost Breaks, light switches, and All other parts in functioning.Good Running conditions.
Rs.3,990,000
21500 km
Polonnaruwa
,
Trucks
DFSK Unimo - 2016,Ac/ hondatama tiyanawa.threewheel maruwakata kemati.call me.0716815637
Rs.280,000