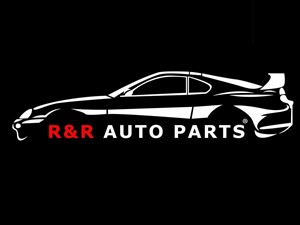 R & R Auto Parts, Vehicle spare parts | Alloy wheels | Automobile Accessories |Automobile tires | Body & performance upgrades etc.. One-stop Automobile Care Center for all automotive spares and modifications (+94) 112 730 587 | (+94) 767 684 107 - NO:265, Galle Road, Mount Lavinia, Sri Lanka
Meechu Aero Style Factory, We have the ability to manufacture for your needs in high quality F.R.P Aero parts, Spoilers, Wings, Body kits, Sport car parts, Formula car parts and all F.R.P parts at a lower cost and in high quality than in your or any other country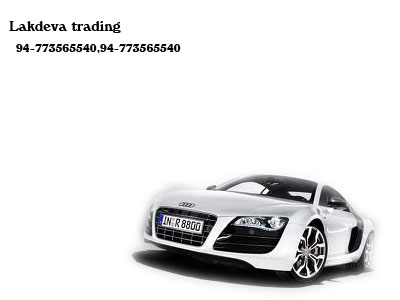 Lakdeva trading, we are lakdeva trading , a very popular trading compony , formed in 2OO2, and we are poisoners in Scrap metal HMS 1 & 2 , for auto parts we provide the outer body parts , as per machinery parts we mainly focus on engine and hydraulic parts , for hardware we focus on accessories , and for construction equipment we have steel prop and scaffolding , machinery tools we have pallet truck and compressors , tiles we have all types of tile, floor and wall . and are happy to cater our fellow good clients,

S & L IMPORTERS, S & L Importers was founded in 2004, our registed office situated in 329/2, Makola road, Kiribathgoda. We are one of the importers of motor accessories in Sri Lanka and needs of providing a wide range of OEM ( Original Equipments Manufacturer) accessories for BMW, MERCEDES BENZ, TOYOTA, NISSAN, HYUNDAI, KIA.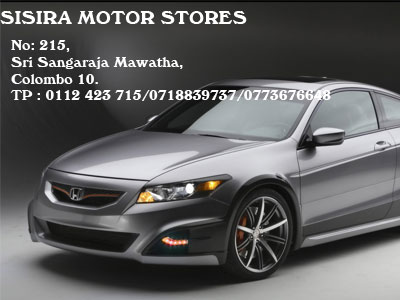 SISIRA MOTOR STORES,
Importers and Dealers in Motor Spares and All Types of Bolts & NutsTractor Spare Parts.
Macsey Ferguson, Ford & Two Wheeler Tractor Accessories.
Vehicle Electrical Accessories. Bulbs.

Open on--- Monday to Friday from 9.00am to 5.00pm Saturday from 9.00am to 3.00pm Closed on Sundays, Poya Days & Mercantile Holidays.