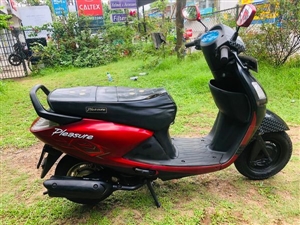 Hero Pleasure - 2012
best offer
Location: Gampaha City, Gampaha
Fuel :
Mileage: 25000 km
Type: Used Cars
Hero Pleasure 2012, Used, 100 cc, Mileage 25,000 km, Good condition අත්පිට මුදලට හෝ පහසු ගෙවිමේ ක්රමයට ලබා ගත හැක. අවම ලියකියවිලි /අවම මූලික ගෙවීම අඩුම මිලට යතුරු පැදියක් මිලදි ගැනිමට,ඔබගෙ යතුරු පැදිය විකුනා ගැනිමට ,හුවමාරු කිරිමට හා ඔබගෙ පැරනි යතුරු පැදිය අපට ලබා දි අලුත් යතුරු පැදියක් ටික ටික ගෙවන්න රැගෙන යන්න ඔබත් අදම පැමිණෙන්න.. CALL - 076 400 9660 / 071 647 8839 ( පරන යතුරු පැදිය සදහා ඉහල මිලක් අපෙන් ) මුළු මුදල 225000/=
Hero Vehicles for sale in Gampaha, Sri Lanka
Auto-lanka.com is the best auto classified in Sri-Lanka - best place for buying and selling cars, vans, any vehicle, spares and services in Sri Lanka.